Cap Tightener
Designed to look after your investment, the Asmech Systems Ltd Cap Tightener is typically made from Stainless Steel Grade 304; (mild steel powder coated available if required). The system can incorporate its own conveyor system, or be mounted above an existing production line. The robust system features start of the art components that can be tailored to meet your individual needs.
Asmech Systems Ltd Cap Tightener features width and height adjustment to accommodate a various range of bottles. Taking health and safety into account, the machine comes fully guarded with perspex and/or metal sheets. This is to prevent human intervention and access to the internals of the machine whilst in operation.
Product is delivered into the machine by a conveyor and accepted into the width adjustable side grippers. This arrangement prevents product from twisting with 3 points of contact and ensures the product is driven simultaneously through the cap tightening wheels. On the entry to the wheels, a sprung loaded bar positioned above the product will apply pressure to any raised caps to ensure the cap is positioned parallel to the wheels.
The wheels used to tighten the caps are driven by a pair of motors mounted to the top of the enclosure. The position of the wheels can be altered according to the required set up and product size. Three of the most common products used in the system are; Trigger Caps, Dip Tubes and Standard Screw Top.
Each unit is controlled by a dedicated, standalone panel which can be integrated into a larger circuit. This will allow the operator to start, stop and reset the system; along with controlling the adjustment of the motors on the tightening wheels and side grippers.
The initial set of wheels carry out the majority of the tightening process, with the second and final pair ensuring the complete seal has been made.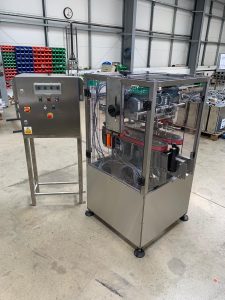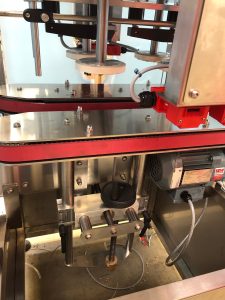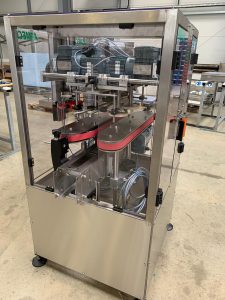 How we can help
At Asmech, we can come to your assistance if you are considering purchasing a Cap Tightening system. We are able to offer tailored solutions to meet your specific needs and can offer you in-depth advice on making the most of your solution.
Decades of experience
Our company was first established in 1995. Since its inception, the company has been designing, engineering, manufacturing, installing and servicing solutions from its entire product range. We are able to use our breadth of knowledge and experience to solve a comprehensive range of automation and materials handling needs.
Getting in touch
Full project management is offered by our team, and we are experienced in working with some of the world's most successful corporations. We can deliver the quality that you require whether you are in need of small conveyors or complete turnkey solutions. For further information, call 01623 424 442, e-mail us at sales@asmechsystems.co.uk or use the contact form on our website.