Asmech were recently approached by a leading plastic manufacture to supply and install a stainless steel belt conveyor at one of their shared sites. Our customer had recently completed a larger project which involved the expansion of their storage and subsequent relocation and modifications to existing systems. This internal project had left a further issue on site and subsequently required additional conveyor system to overcome the matter
We were scoped to handle a plastic container which had been blown and transferred into storage before being conveyed downstream to a buffer system where it would be held until requested by the filling company. From this point, containers would be unscrambled, orientated and delivered to the filler.
The project was designed, manufactured, installed and project managed by Asmech and a full spares package was delivered as part of the project.
For more information on our Conveyors or any other handling or automation enquiries please call us on 01623 424 442 for a no-obligation chat, or message sales@asmechsystems.co.uk with your thoughts or enquiries!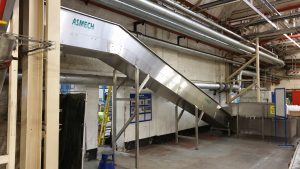 ---