Asmech were recently approached by a leading dairy to automate their manual cheese filling process. Reducing the number of operators working on the line. Asmech proposed a new cheese conveyor system to achieve this.
The old process
The previous process required an operator, to assemble the cheese hoop moulds before positioning them beneath the filler chute.
Once located, a second operator would remove the cover on the chute, causing the moulds to fill. It would then be the responsibility of the operator to make an educated guess on the fill weight.
A third operator collects the filled mould and carries it over to the scales. Here it is weighed to find out if it is within tolerance. If a mould required rework, it would be placed on a table where further cheese would be deposited. The weighing process would then be repeated.
The fourth and final operator would then stack full moulds into a rack to dry and remove the base of the hoop. The hoop can then be used on a new, empty mould.
Asmech's new bespoke Cheese Conveyor system
To streamline the process, Asmech designed and manufactured a system to handle full and empty moulds. The cheese conveyor system we provided also had the facility to weigh products whilst under the filling chute. This allowed the customer to increase production, remove man power from the line and improve efficiency.
The new cheese conveyor system comprised of two 3m long belt conveyors and a filling station. This reduced the line down from four to two operators. It allowed the same operator to assemble moulds and place them onto an in-feed conveyor. This conveyor would be delivered to the filling area, offloading full moulds from the out-feed conveyor to place into the racks.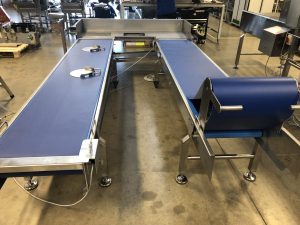 Moulds will be delivered to the end of the in-feed conveyor. The second operator will collect and place moulds onto the scales ready to be filled. The filler cover is removed, thus filling the mould. The weight is read out on a digital screen which featured a "traffic light" function, indicating when the mould was either under, close to, achieved or over tolerance. The scales were designed to be sunk within the filling station. The top of the scales sat flush with the table to prevent the operator from having to lift product.
When moulds were filled to tolerance, the second operator would transfer the cheese onto the out-feed conveyor. The first operator can then remove the moulds from the line and place onto the rack.