Powered Roller Conveyor
Asmech Systems Ltd design and manufacture a wide variety of powered roller conveyors to suit all conveying requirement. Powered roller conveyors can be used through the whole range of handling situations and are ideal for Case, Tote and Carton handling.
A sample of our products include:
Chain Driven Conveyors
Line shaft Driven Rollers
Motorised Drum Rollers
Heavy Duty Rollers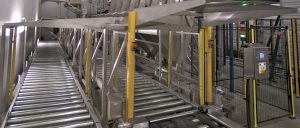 At Asmech, we design and manufacture powered roller conveyors to meet a host of needs, offering solutions that are ideal for the handling of cases, totes and cartons. The products that we offer include heavy duty rollers, motorised drum rollers, line shaft driven rollers and chain driven conveyors.
A non-slip system
Chain-driven powered roller conveyors are noted for their power and perfect for the transportation of bulky, heavy items. Palletised goods are often moved with such systems. These conveyors simply do not slip, which is why they are regarded as such a great match for high-weight loads. Rollers are bound together by chains and sprockets, with driver rollers being connected to the motor through a chain.
Bespoke systems available
Asmech specialists can design bespoke power roller conveyors to suit your precise requirements. Power roller conveyors offer significant benefits to companies operating in various industries, including the food sector. They can help you cut operational costs and heighten productivity, and it's possible to select different designs to suit specific needs. Despite the high efficiency of power roller conveyors, the level of noise emitted by them is generally low.
Catering to your needs
We always pay close attention to what our customers have to say in order to create the ideal solution for their needs. Our powered roller conveyors are noted across the industry for their reliability, flexibility and efficiency and can be integrated with various switches, transfers and stops to offer the ideal solution to your logistical requirements. Powered roller conveyors can be used to move items around your warehouse quickly, including items of various sizes and weights including lighter and heavier pallets.
How do line shaft roller conveyors work?
Line shaft roller conveyors are powered by a shaft that sits beneath the rollers and are the perfect match for light items like tote boxes and cardboard boxes. They are designed with evenly-distributed loads in mind, including food packages and parcels. To get the most out of your line shaft roller conveyor, keep your working environment dry, clean and free of oil.
Maintaining your conveyor
To keep your conveyor working as it should, it's wise to spend a few moments each day carrying out checks. You need to look for symptoms of liquid and dust, removing dirt and debris when the system is offline. Listen out for any unusual noises whilst it is running and avoid overloading your conveyor. Ensure your employees remain fully-trained to operate your conveyor safely and securely. Should you find the equipment is not being used safely or correctly, you may wish to consider refresher training.
Contact Asmech today
Choose Asmech if you require a powered roller conveyor that will deliver years of performance before it needs to be replaced. We are able to offer bespoke design and installation services. You can contact us today by calling 01623 424 442 or sending an e-mail to sales@asmechsystems.co.uk. Alternatively, you can use the contact form on the website to find out more about our services.