Stepovers, Platforms & Gantries
The use of stepovers, platforms & gantries are an integral part of many process, manufacturing and industrial environments. This solutions reduces risk of on-site accidents and improving factory safety whilst providing access for machinery operation, repair and maintenance.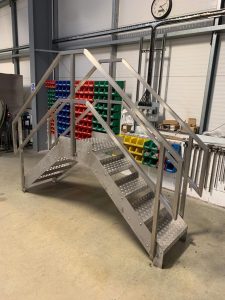 The use of gantries and platforms instead of ladders has significantly improved factory safety, reducing the risk of on-site accidents due to manual handling, falls, slipping and tripping. In many situations, it is essential to install gantries or platforms to ensure compliance with health and safety regulations. Asmech Systems Limited supply bespoke solutions, finished in stainless steel, aluminium or mild steel, which can be designed around unique production line layout and machinery.
All of our designs are structurally approved and meet the requirements of current health and safety legislations. Manufactured from robust, hygienic materials, they can safely be used in food production areas. Platforms can be fabricated to suit range of flooring. These can include, but are not limited to; open grid GRP (fibreglass grating), fully welded stainless or mild steel durbar and flow-forge depending on safety or hygiene requirements.
Gantries, stepovers and platforms create a safer working environment for operation, repair and maintenance of machinery. They provide easier access to machinery, ensuring more effective cleaning regimes and helping to meet food hygiene standards.
To find out more about our products, simply take a look around our site, call 01623 424 442 or send an e-mail to sales@asmechsystems.co.uk. Alternatively, use the contact form on our website. You can also find Asmech on YouTube and LinkedIn.