The UVT Light Sabre is a portable hand-held device designed for decontamination of surfaces and hard to reach areas. The user slowly passes the device over the contaminated area, allowing the energy from the high output UV-C Emitter to decontaminate all surfaces. A safety shield prevents direct exposure to UV-C energy. The UVT Light Sabre is ideal for use in the healthcare sector, commercial, industrial or institutional buildings providing a fast-acting, portable method of surface decontamination, destroying viruses, bacteria, moulds and preventing cross-contamination.
By comparing the UV light output of the lamp to published research regarding the Coronavirus, you can achieve a 99.9% reduction in Coronavirus in under 2 seconds (based on 30 cm distance, covering an A4 area). Use a slow-scanning motion to disinfect equipment and surfaces ensuring potential shadow areas are also exposed.
Applications;
● Hospitals and Healthcare facilities
● Laboratories
● Food & beverage processing areas
● Residential and commercial mould remediation
● DNA laboratories to prevent cross-contamination
● Schools, libraries and homes Applications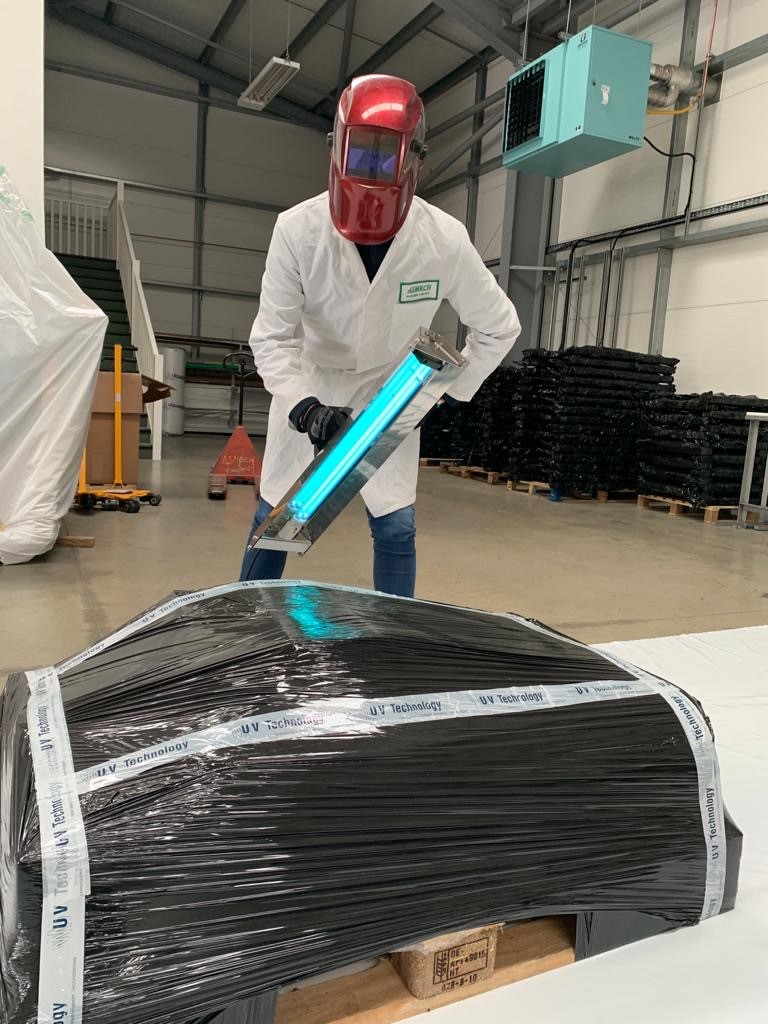 The Benefits UVT Light Sabre applications include;
● Kills surface micro-organisms that contribute to ill health and the spread of infectious disease
● Leaves no residue and produces no contaminants
● Portable and easy to use – plug and play
● Inexpensive to operate – uses same energy as a 95W bulb
● Suitable for Healthcare, Corporate and Residential markets
● Industrial strength High Output UV-C lamp
● Proven technology
N.B. Appropriate PPE required when using this device
Technical Information
UV Source
 1 x 95 W High Output UV-C Emitter
Emitter Life Span
6000 Hours
Wavelength
254 NM
Power
95 W
Power Requirements
220 – 240 V (50 – 60 Hz)
Constructional Material
Stainless Steel Grade 316
Weight
2.55 KG
Dimensions
See Dimensions
Rating
IP 56
Crash Protection
Teflon Sheathed Emitters (Shatter Proof)

***Technical Information provided by UVT Global and associated academic partners***
https://uvtglobal.com/wp-content/uploads/2020/05/UVT-Light-Sabre.pdf?v=79cba1185463
Through a continued partnership with UVT Global and PNE Controls Ltd, the innovation of the Light Sabre was created in response to the COVID-19 crisis and for those who do not have the facility to integrate tunnels, ovens and conveyors (all of which are designed and manufactured inhouse here at Asmech Systems Ltd) into their workplace.
To see our Light Sabre in action, click on the link below!
We are passionate about bringing the ideal solutions to life and also offer an outstanding aftercare service to protect your investment. To speak to us today, send a message to sales@asmechsystems.co.uk or call 01623 424 442. Alternatively, get in touch through the contact form on the site. You can also follow us on LinkedIn and YouTube.