On the 14th March 2023 Asmech Systems Ltd. were, once again, proud to attend and support the Rotary Club of Mansfield's Courage Awards. It was the event's 32nd year and was held at the Portland College in Mansfield.
Mansfield Rotary Club Courage Awards
Rotary is an international organisation and the Mansfield Rotary Club is one of many clubs around the world.  The Courage Awards are an annual ceremony and luncheon to celebrate youngsters from schools and colleges across Mansfield for their courage and bravery in facing adversity.
Dylan Zhuta
For this 32nd Courage Awards, Shane Gunstone was there to represent Asmech Systems Ltd. in proudly sponsoring Dylan Zhuta who is in Year 11 at the Meden School in Warsop.  Dylan was among thirteen young people who were nominated by the teachers at their respective schools or colleges, and were all presented with an engraved plaque from the Mansfield Rotary president Karen Johnson, and a civic citation from Andy Abrahams who is the Mayor of Mansfield.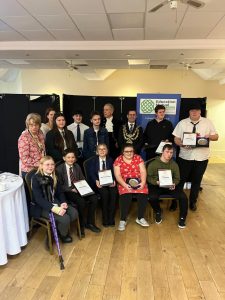 Karen Johnson summed up what the awards were about, with a quote that the Rotary Club president at the original awards referred to:
'Courage is often described as the ability to conquer fear or despair.
But courage is not only showing bravery in the face of danger, more often courage is the day-to-day determination and hard work of dealing with, adjusting to, and hopefully overcoming, the obstacles and harsh realities that life may present.
It is a quality of mind, enabling one to face that hardship with resolution — a resolution with power and spirit.
The power to make choices and set goals and to act upon them firmly without renouncing those objectives. The spirit to let that courage succeed by the behaviour and attitude shown to the world about them'
https://www.news-journal.co.uk/inspiring-young-people-honoured-at-annual-courage-awards/