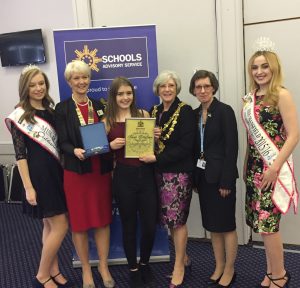 Asmech Systems were proud to support the Rotary Club of Mansfield 26th Courage Award Luncheon at Mansfield Civic Centre on Tuesday 7th March 2017.
The luncheon as ever was an inspiration to the young people who were honoured and also to their parents. There was no outright winner at the event; each nominee has an equal status and received his or her own individual award.
Shane Gunstone (Managing Director) said, 'It is a privilege to sponsor a table at such a humbling and inspiring event. This year the table sponsored was in support of a courageous young lady Angel Forman'.
Angel had a serious accident in July 2016 when she fell 40ft from a cliff; breaking both ankles, her wrist and pelvis. Angel has now worked through several operations and was immobile for weeks whilst trying to regain her confidence and strength.
Angel returned to school in January and has returned to all her lessons, even though she is still in pain and has further operations to go through, one of which is planned in March.
Angel is working hard towards getting good GCSE's this year despite everything she has gone through.
Well done Angel, keep up the good work, you are an inspiration.