Over the past 26 years, Asmech Systems Ltd has built up strong foundation where we are proud to be one of the UK leading suppliers for Material Handling Systems in the Blow Moulding, Dairy, Food & Beverage, Pharmaceutical and Industrial sectors.
Asmech Systems Ltd are proud to announce a new management team structure, which has been put in place for 2021 and beyond.
The company's founder and owner; Shane Gunstone has altered his role within the business, which has opened up some exciting new roles by creating a Board of Directors.
The new Board of Directors are as follows:
Shane Gunstone, Chairman
Joshua Todd, Sales Director (left)
Chris Haynes, Engineering Director (center)
James Sudbury, Operations Director (right)
Julie Brown, Company Secretary / Administration Director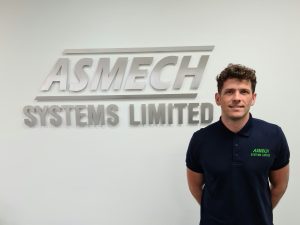 Shane Gunstone, now Chairman of the Board said:
"I feel that now is the right time for me to consider both mine and Asmech's future. I have created a new board of directors (All from within the company with enormous knowledge of Asmech) that will enable me to reduce my time spent in the company from day to day. By no means am I retiring, but will work from home more frequently, and support the new board with my knowledge and expertise gained over the last 26 years of running the company. It is a dynamic, young and vibrant board which will take Asmech onto the next level. We will continue to offer the great levels of support to all of our customers (New and Old) that they have come accustomed to and are synonymous with the Asmech brand."