Conveyor Spares
At Asmech, we supply a vast range of Conveyor spares and parts to keep your handling system running. All our parts are high quality, competitively priced and from leading manufactures. These include:
SEW Eurodrive
FESTO
REXNORD
SICK – Sensor Intelligence.
Purchasing conveyor spares and parts for daily maintenance and repairs can be a complicated process. However, it is essential. Avoiding costly downtime and maintaining continuity of your system ensures greater operational efficiency and cost-cutting in the long run.
Maintaining certain parts
Certain parts within a conveyor require maintaining more than others. Components that fall into this category include:
Motors
Wear Beds
Bearings
Belts
These components, which you can buy from ourselves as conveyor spares, need checking before and after every shift. For this reason it is necessary to keep the manual that comes with your handling system to certify you're aware of how to correctly and safely perform maintenance or replacements. When working, employees need to be vigilant, making a note of any strange noises or missing parts when going through checks is important.
Buying and keeping spares ready
Parts of a conveyor can break or become faulty at any time. There are no guarantees that parts will never develop a fault, it could be a year down the line or it could be within weeks. With that in mind, it is a must to keep conveyor spares ready for when the unfortunate occurs.
Being ready with conveyor spares will avoid costly downtime for your business' factory processes. If you fail to replace the faulty and broken parts within your system quickly, other issues may begin to arise. Malfunctioning modules can result in addition stress levied on other components and further issues as a result, leading to more costly repairs and longer downtime. Alongside keeping spares, consider working with a supplier, like ourselves, Asmech. Being able to quickly source parts in an emergency can again, save time for your business.
Are Conveyor spares easy to install?
Installing conveyor spares and new components can be tricky but it all depends on the part itself. At Asmech, we aim to design our systems to be as simple and as maintenance friendly as possible.
As a business, make sure that the person who is installing the new parts has the know-how and experience required. This will ensure that the task is done safely and successfully. However, working with Asmech, you can be assured that if you have any issues or troubles, we can help with any installation.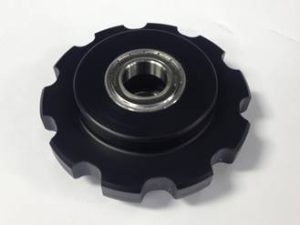 If you need any assistance with Conveyor spares and components for your handling system, contact us today. We have a vast number of engineers with brilliant knowledge and experience when it comes to anything conveyor related. Call today on 01623 424 442 or fill in one of our enquiry forms.