Following the recent difficult times in which we find ourselves in across the globe, the way we conduct ourselves in public and in the workplace will change dramatically.  With this in mind, we have designed a range of protective screens and hygiene solutions.
We've seen strict control of numbers in public and workplace environments at any given time, one-way systems to navigate around busy places, hand sanitising stations to clean hands and surfaces regularly, and protective screens at the checkouts, counters and desks. This is becoming part of our new normal to protect ourselves and our colleagues and customers.
To help kick start the economy and get back to work safely, Asmech are currently manufacturing a range of protective screens and stations to equip your business for the new, safer and more hygienic world we live in.
Plastic screens are a great way of preventing infection spread of COVID-19 and offer protection to your staff and customers. Our range of screens and work stations offer flexibility to suit a range of applications including free-standing desk screens, reception desks and counter protection. Clear guards are machined from high-quality clear plastic and can be disassembled for space-saving.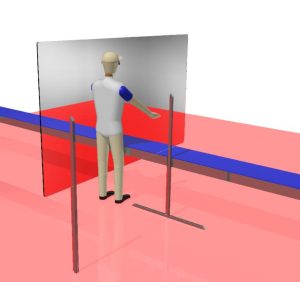 To speak to us today, send a message to sales@asmechsystems.co.uk or call 01623 424 442.